OVERVIEW
Experience Unprecedented Speed in Antibody Discovery with the
Opto® B Discovery Application
Opto B Discovery on the Beacon® platform revolutionizes antibody discovery (AbD) by combining cutting-edge optofluidics, proprietary workflows, and best-in-class consumables.​
The state-of-the-art workflows leverage up to 4 optofluidic chips to characterize single B cells and significantly reduce the time and cost needed to identify the most promising antibody lead candidates.​
By harnessing the power of Opto® B Discovery workflows, the Beacon systems accelerate the discovery and testing process, making it more efficient and accessible beyond the reach of traditional methods.​
Opto® B Discovery Application
Experience Unprecedented Speed
DATASHEET
The Opto® Memory B Discovery Human Workflow
Unlock access to the wide diversity of human memory B cells to accelerate more physiologically relevant and efficacious antibody discovery.
This Application Note outlines:
A rapid workflow to screen human memory B cells and discover high-value monoclonal antibodies in one week
Robust activation of human memory B cells using proprietary feeder-free activation medium
Efficient recovery of antigen-specific antibody sequences for downstream characterization and development
Meet the Beacon® Optofluidic System
The Most Advanced
Antibody Discovery
Platform
Process and Analyze Cells in a Faster, More Insightful Way
At the core of the Beacon system is a combination of optics and nanofluidics called optofluidics. The OptoSelect® chips replace typical well plates. Each OptoSelect chip contains thousands of NanoPen® chambers, which replace wells on a microplate. This is where cells are selectively placed, cultured and characterized using a myriad of proprietary Beacon Platform assays.
Accelerate Antibody Discovery
See how pioneers in AbD use our technology to speed up workflows, find the best lead
candidates and improve target-to-lead antibody selection.
Beacon Application
Modules
Screening thousands of cells is an automated process on the Beacon system with our four workflow modules: Import, Culture, Assay and Export. These modules can be adapted, interchanged and deployed with a variety of single-cell assays to address specific applications and a variety of cell types.
Our software automatically identifies single cells and directs them into NanoPen chambers all at once. Chips are loaded with cells in less than 30 minutes.
As cells proliferate, nutrients diffuse in, waste diffuses out, and software images the chip continuously to count cells and calculate growth rate.
Test individual cells immediately and repeatedly in our NanoPen chambers, instead of culturing for weeks to reach a minimum number of cells for assay.
Choose your cells of interest. Light patterns move them into position for export to a well plate.
From Donor to Lead in 18 Days
The Opto B Discovery Workflows Enable Cloning and Direct Functional Profiling of B Cells in a Single Day
Vanderbilt University delivered sequences of confirmed SARS-CoV-2 neutralizing antibodies to downstream manufacturing partners in just 18 days using this workflow. Two of these antibodies form the basis of AstraZeneca's Evusheld antibody cocktail for the treatment of COVID-19, which was authorized for emergency use from 12/2021 to 1/2023.​
These significant time savings not only enable a rapid response to emerging pandemics but can also deliver millions of dollars in enabled revenue and return on investment.​

"The main reason why we employ the Beacon system here at Abveris is to enable deep characterization of single B cells in multiple sequential assays. Its design allows for precise control of the movement of cells, leaving you with the ultimate flexibility in assay design and, as a result, a higher screening resolution."
Colby A. Souders
PhD, Chief Scientific Officer, Abveris
"In the long run, this technology will help us to solve complex problems that are too hard or expensive to solve with our current tools."
Philip Tagari
Vice President of Therapeutic Discovery, Amgen
"The throughput of two Beacon systems, coupled with our genetic immunization technology, has increased the probability of campaign success by delivering 10-fold more lead candidates against difficult targets like GPCRs."
Brian Walters
CEO of Genovac
Capabilities
Develop a Deeper Understanding
of
Opto B Discovery
Fast, Powerful Workflow for Antibody Discovery
The Beacon system can drastically reduce your AbD timelines and downstream costs by allowing you to bypass less promising candidates and devote your resources to only the most promising ones. It achieves this by functionally assaying tens of thousands of B cells in a single day and identifying the best candidates within hours, a process that traditionally takes months.
CUSTOMIZE
Create the Perfect Workflow for Your Specific Antibody Discovery Needs
Customize each workflow for your unique campaign goals. Choose from our wide range of reagents, chips, and workflow operations for the perfect balance of cost and performance. Mix and match our products with your expertise to get the most out of your discovery work.​ Leverage the power and flexibility of single B cell screening to develop your own reagents and workflows for new species, targets, and assays.
Tailored, Rapid Assays to Find the Best Antibodies
Unlock the potential of personalized assays with Beacon Select™. Customize for both soluble and membrane-bound targets, integrate with Opto B Discovery, and fast-track your B cell screening from months to hours. Leverage our technology for a swift, customized approach to antibody discovery.
Antigen Specificity Assay
Membrane-bound Antigen Cell-binding Assay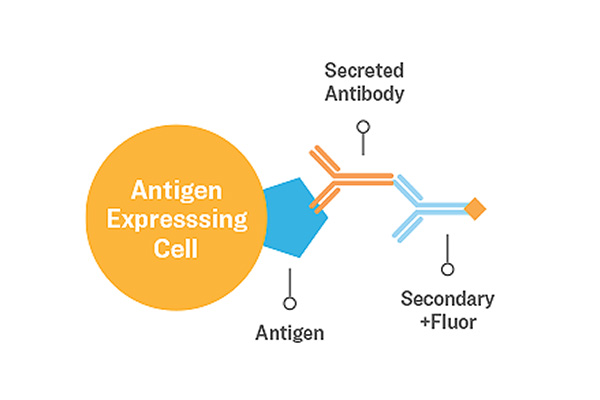 SCREEN & RECOVER
Recover Lead Molecules,
Not Just Sequences
Unload the B cells you want, link their phenotype to genotypic sequence. Customize your hit-picking criteria based on assay results to unload and recover sequences from hundreds of B cells. Choose only the best lead molecules to carry forward or recover larger datasets to feed into your antibody optimization workstreams.
Optofluidics to Rapid
Re‐Expression
Bypass lengthy and costly gene synthesis and cloning by directly incorporating BCR sequences into linear transcripts to transfect within days, not weeks. ​
Bruker Cellular Analysis' Functional Cell Biology Has

Been Published in 100+

Publications
Resources
Research & Datasheets
Empowering Rapid and Robust Antibody Response: The Role of Next-Generation Antibody Discovery in Preparedness for Emerging Diseases and Endemic Threats
Beacon for Antibody Discovery
Let's Unleash the Full Potential of
Your Antibody Discovery Research
Complete the form to connect with us and discover how the Beacon technology can enhance your Antibody Discovery programs.
Our expert team will be able to answer your questions, show you how the Beacon system works, and share the most relevant datasheets & case studies for your research.
Your Data is Secure. We will always keep your personal information safe and not share it with any third parties. By submitting this form, you agree to receive communications from Bruker Cellular Analysis and accept our Privacy Policy. You may unsubscribe and update your email subscription at any time.