Optofluidic System
Beacon

® Optofluidic System
1000s of cells. 100x the insights. 10x faster. The Beacon system is a better, more advanced way to process and analyze cells.
Beacon® Optofluidic System
With the Beacon system's light-speed workflows, you'll gain insights, iterate and innovate as fast as your inspiration.
Replace a roomful of equipment with the Beacon system
Work with individual cells radically faster than using other technologies
Perform assays at any time, as often as you need
Track phenotype and genotype of single cells or clones
Automate and scale workflows far beyond manual, time-intensive analysis
Generate greater insights through deep profiling of each cell or clone
OVERVIEW
In the race to find important cells, the Beacon system saves time, money and effort.
Imagine how much further you can take your product development with a single cell-based workflow that shortens the selection process to just days. Bring the right biologic therapies into clinical testing faster. Identify the cells that matter much sooner. Move any field light-years ahead.
LA JOLLA INSTITUTE
"The Beacon system paired with ingenious protein chemistry, will facilitate a high-throughput approach to identifying highly potent and rare 'needle-in-a-haystack'- antibodies that would be ideal biotherapy candidates that have been difficult or impossible to find with previously available technology."
— Stephen Wilson, Ph.D., Executive Vice President and Chief Operating Officer
MORE INSIGHTS
The Beacon system's deep profiling reveals 100x the insights of legacy technologies.
The Beacon system can capture bright field and fluorescence images of each NanoPen™ in an OptoSelect™ chip at any time. Track and assay the same individual cell across multiple time points to reveal deep profiling—richly detailed "fingerprints" of cells and clones you can't get any other way.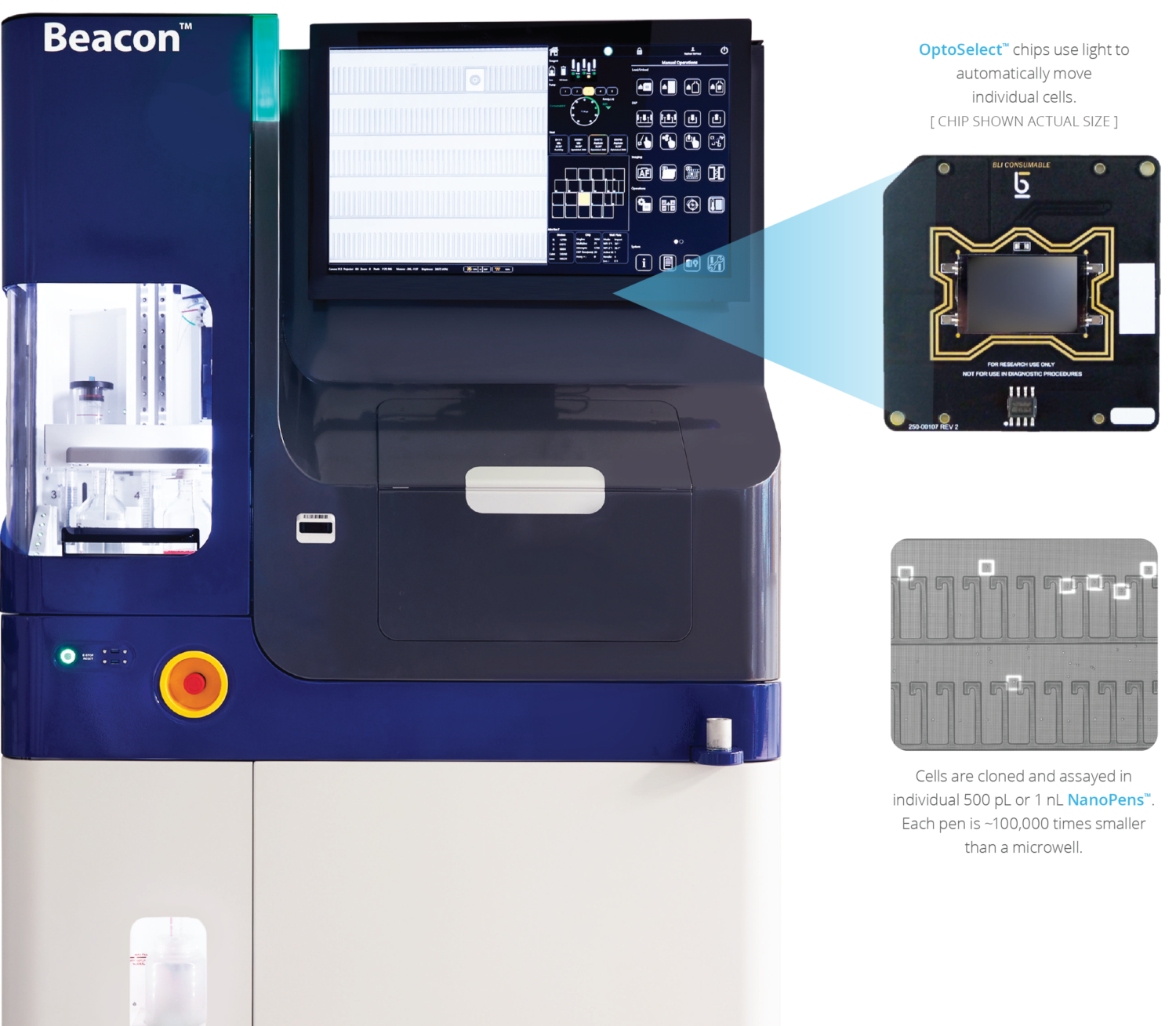 BEACON TECHNOLOGY
At the core of the Beacon system is a combination of optics and nanofluidics called optofluidics.
The OptoSelect chips replace typical well plates. Each OptoSelect chip contains thousands of NanoPen chambers, which are like wells on a microplate. This is where cells are deposited, where they grow and where they are characterized using a myriad of proprietary Beacon Platform assay.
Beacon Workflow Modules
Screening 1000s of cells is an automated process on the Beacon system with our four workflow modules: Import, Culture, Assay and Export. These modules can be adapted, interchanged and deployed with a variety of single-cell assays to address specific applications and a variety of cell types.
Import
Our software automatically identifies single cells and directs them into NanoPen chambers all at once. Chips are loaded with cells in less than 30 minutes.
Culture
As cells proliferate, nutrients diffuse in, waste diffuses out, and software images the chip continuously to count cells and calculate growth rate.
Assay
Test individual cells immediately and repeatedly in our NanoPen chambers, instead of culturing for weeks to reach a minimum number of cells for assay.
Export
Choose your cells of interest. Light patterns move them into position for export to a well plate.
SAMPLE BEACON ASSAYS
NanoPen chambers are 100,000 times smaller in volume than a microwell.
That means a single cell can be isolated and assayed in its own discrete chamber. There's no need to wait weeks for a large quantity of cells to assay. Perform secretion assays with both soluble or membrane bound targets within hours of cloning. You have complete flexibility to run fully-automated assays, sequentially or simultaneously, as frequently as you choose.
High Throughput Chips
Depending on your assay and throughput needs, different chips with different throughput and NanoPen chamber shapes are available for the Beacon system. You can run up to 4 chips at the same time and the Culture Station instrument can be used for culturing cells on chips offline.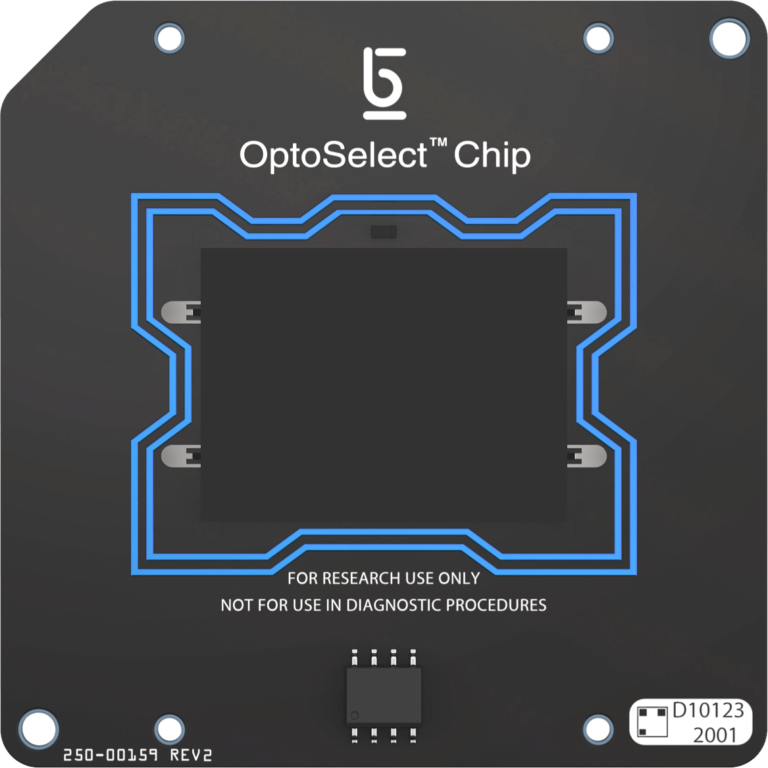 OptoSelect 1750 Chip
1.7 nL NanoPen chambers are ideal for longer term culture experiments including cell line development and adherent cell cloning.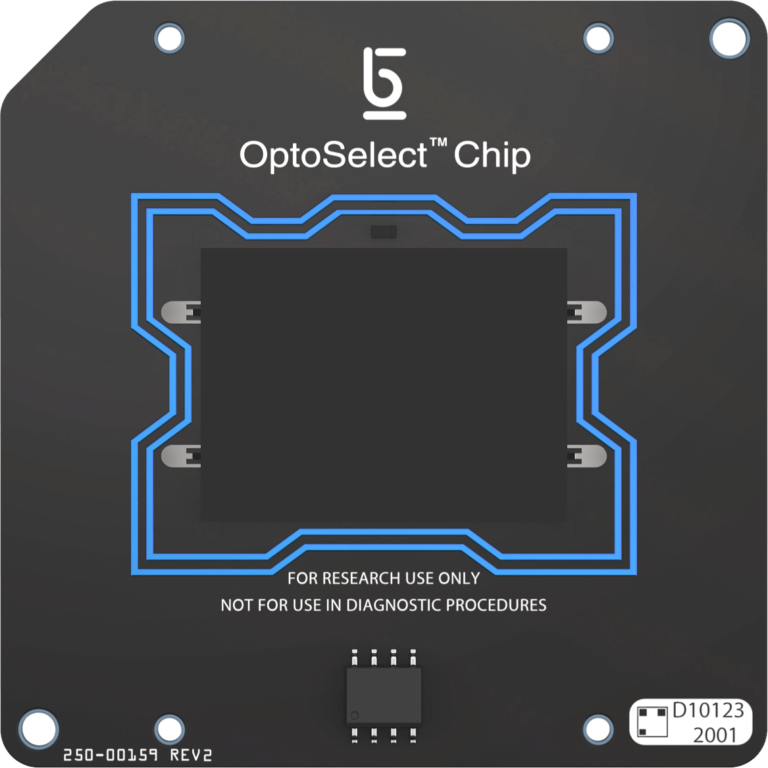 OptoSelect 3500 Chip
0.75 nL NanoPen chambers enable some cell division and higher clone throughput.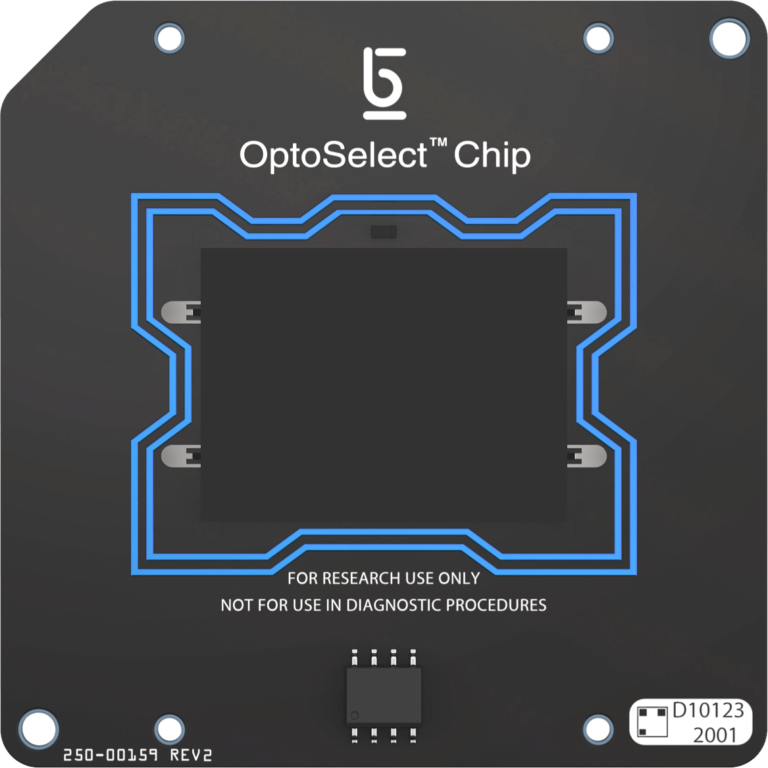 OptoSelect 11K Chip
0.32 nL NanoPens are designed for the highest throughput of single cell screening.